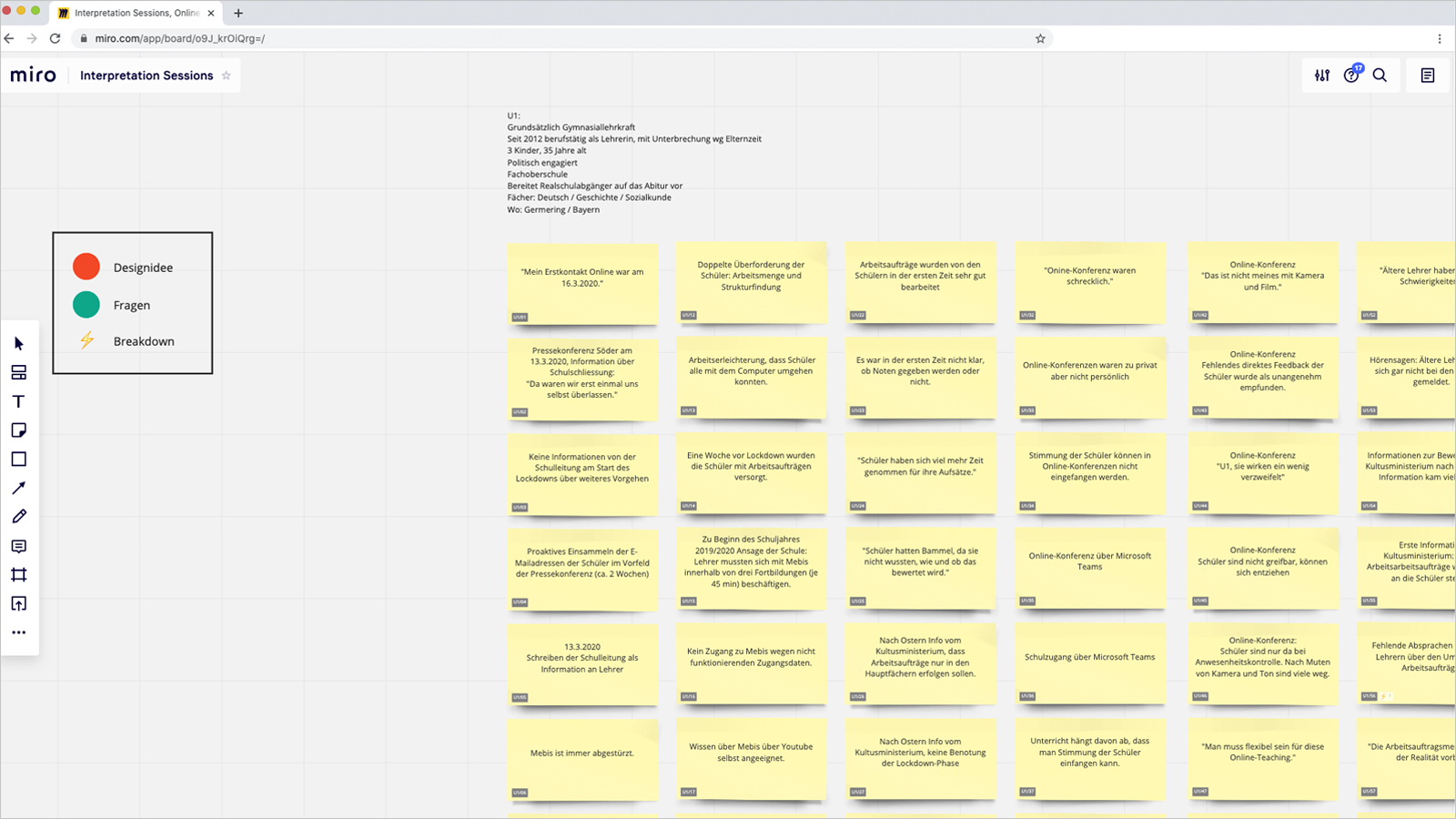 OVERVIEW
Due to the corona lockdown and the resulting school closure, teachers and parents were faced with a completely new situation. Almost all of my acquaintances were affected by homeschooling. So were I. Every one of us made a lot of different experiences, especially when it came to digital lessons. It was obvious that something was going wrong. But why? We, a group of students at artop, Berlin, decided to investigate the situation within our final thesis on Usability and User Experience Professional.
GOAL
Figuring out the challenges when it comes to assessing the knowledge level of the students during the Corona Lockdown.
APPROACH
Determining the target audience
Creating an interview questionnaire
Conducting contextual inquiries remotely
Processing the findings within an affinity diagram
ROLE
User Research
---
THE PROCESS
We decided to conduct contextual inquiries and to process our findings in an affinity diagram. Affinity diagrams are a great way to cluster and bundle a large amount of gathered information within user research, ideas and facts.
After defining the target audience (teacher at the grammar school in grades 5 to 12) we framed the interview questionnaire.
Recruiting the teachers wasn't that easy. There were concerns about data protection (we conducted the interviews via Zoom) and a lot of time constraints. Finally, we found four teachers who agreed.
One interview lasted one hour. After eight hours of interpretation session (about 2 hours of interpretation session per interview), we processed our notes as an affinity diagram, strictly according to Karen Holtzblatt.
---
FINDINGS
From almost 400 Notes taken during the interviews, we finally framed five findings. We deliberately formulated these results in a provocative way in order to encourage the discussion at the presentation:
Teachers do not behave user-centred
The curriculum has priority
No investment in the digital transformation of the teaching profession
The school management does not see itself as a manager
The 'Kultusministerium' is not prepared for crises of this dimension
---
LEARNINGS AND TAKEAWAYS
Target audience

Invest enough time in defining the target audience to get valid results.
Iteration
Processing an Affinity Diagram, synthesising and discussing the findings is very time-consuming. Due to time constraints, we weren't able to run a second round. In order to improve the result, this would have been absolutely wise.
Collaboration

It was inspiring to see how each person was able to contribute a different perspective during the interpretation sessions.